Coolant System
Why should I replace my antifreeze?
Antifreeze does more than keep your engine from freezing on cold winter days. It performs three major functions to help prolong the life of your engine and cooling system:
Keeps engine from freezing
Helps prevent internal surface corrosion
Improves heat transfer to help engine operate cooler
Antifreeze keeps the inside surfaces of the engine, radiator, heater core, and other internal parts from corroding. Keeping the internal surfaces clean, enhances the heat transfer ability of the parts. Modern engines run hotter, which helps them to run cleaner and meet today's emissions standards.
Antifreeze also increases the efficiency of heat transfer over plain water.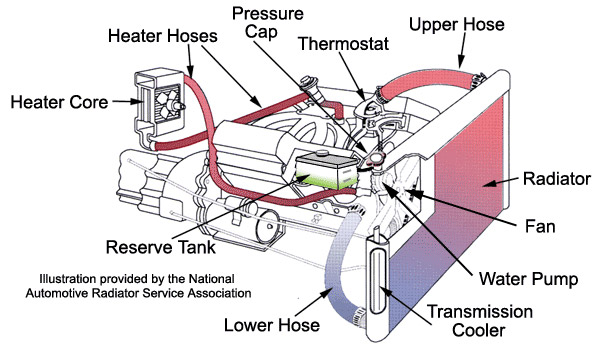 How often should I replace my antifreeze?
It is recommended Ethylene Glycol should be replaced every two years or 24,000 miles. Dex-Cool®, which is used in later GM® products, should be replaced every five years or 100,000 miles. GO-5®, which is used in the later Chrysler® products, was first introduced in the early 1980's and should be replaced every five years.
Which antifreeze should I use?
Ethylene Glycol is the original "permanent" type of antifreeze. It is one of the most stable and common types. It is used in all types of gas and diesel engines. Diesel engines require a special additive to aid in the protection of the cylinder walls. It is also the least expensive to purchase.
Dex-Cool® uses organic acid technology as a corrosion inhibitor. Dex-Cool® should be used on vehicles that had it installed from new at the factory. It should not be used as a replacement for Ethylene Glycol. One of the problems associated with Dex-Cool® happens when air or oxygen enters the cooling system. When this happens, the air reacts with chemicals to create a heavy brown sludge which can clog up the system causing problems. The heat of the engine is the catalyst that causes this to happen. Dex-Cool® is the most expensive to purchase.
A new antifreeze on the market is Peak Global Extended Life®. It features organic acid technology with an entirely different, unique, and patented inhibitor package used in all automobiles worldwide, regardless of year, make, model, or original antifreeze color. Peak Global Extended Life® meets the Chrysler® and Ford® specifications and requirements. It is also compatible with Dex-Cool® and satisfies the requirements of GM 6277M (Dex-Cool®). Peak Global Extended Life® is also compatible with the European and Asian manufacturers.
If your cooling system is relatively clean, we suggest that you consider changing to Peak Global Extended Life Antifreeze®. If your system is on the contaminated side, we suggest that you use the standard Ethylene Glycol with an additive called Cool-Tec 2® which we use in our Ethylene Glycol coolant exchange services at no additional cost. Peak Global Extended Life® is good for five years or 150,000 miles. Peak Global Extended Life® is moderately more expensive than Ethylene Glycol and less than Dex-Cool®.